[Fullset. S] Love27_Mini
This is Migidoll's Showroom full set.
The price is 30% off the list price as it has been displayed more than 2-3 times, decorated for offline events and showrooms.
It is open from the 9th to the 31st in May only.
It's a one-off product, so the product in the picture will be delivered.
Sales opening period : May 9 (2 p.m.) to May 31 (6 p.m.)
Selling Product : [Full set. S] Love27_Mini
* It opens simultaneously on domestic and overseas sites. It's a product prepared only for one piece, so if it order from first on an Korea site, order on international sites are automatically canceled.
* If the payment is not completed within 48 hours, the order will be automatically canceled.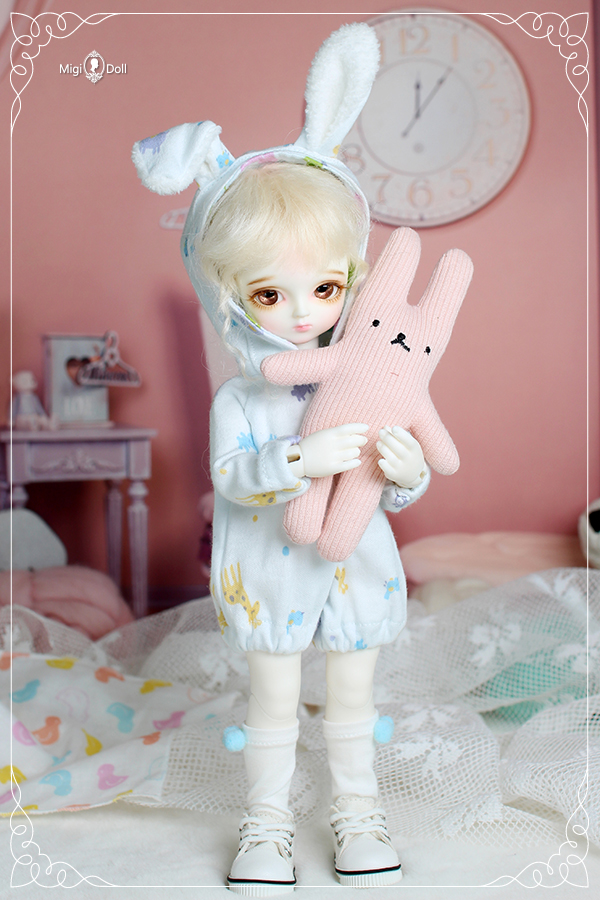 * Love27 - Mini

[Includes Item]
- Love27 type Mini(with Make-up) + Enchanted Doll eyes + Mohair Wig + Body suit + Shoes + Cotton doll + Head Cap + Guarantee card + Doll Cushion + Doll Box.
[Informaiton]
- Body : Commen 27 body
- Skin Color : Sugar white skin

[Notice]
- Eyes are not fixed in the head to prevent from damage during shipping.
Please set eyes in your favorite direction by using the putty included.
- 眼球は配送中に破損する恐れがあるため、ヘッドに付着せずに送られます。
一緒にお送りする眼球パテを利用して付着してください。
- All the Migidoll dolls are handwork.
Due to the characteristics of handwork, there will be a little asymmetry.
Therefore, please give careful consideration to order.
Migidollの全ての人形は手作り人形です。
手作業品の特性上、少しずつ非対称と段差が存在します。 注文時に手作業品について理解が難しい方は、慎重に購入してください。

- We can not accept A/S or refund about possible phenomena in resin manufacturing process.
* Gate clearance marks appearing in the finishing process.
* Minimal bubbles and scratches, fine dust except head face.
* Slight color difference between body parts, color difference of additional order parts and main body.
* Additional ester trace for removal of residual release agent.
* Minute bubbles and urethane stains on tanning colors and special skins, ester marks for gate removal.

- レジン製作工程上、起こりうる現象についてはアフターサービス及び払い戻しができません。
* 仕上げ工程上に現れるゲート整理跡
* 些細な気泡とスクラッチ、ヘッド顔面を除く微細なほこり
* 些細なボディパーツの間の色差、追加注文パーツと本体の色差
*残余離型剤除去のための追加エスターの跡
* 日焼け色と特殊スキンに現れる微細な気泡やウレタンの汚れ、ゲート除去のためのエスターの跡。

- The skin color can be vary depending on your monitor setting.
- スキンの色はモニター環境によって異なることがあります。
[Shipping information]
-This product is sent immediately after deposit. (Shipping date is every Tuesday and Thursday)
- 振り込み後すぐに発送される商品です。(配送日は毎週火、木曜日)
- All products from Migidoll are shipped via EMS for safe and fast delivery.
- ミギドールのすべての商品は安全で迅速な配送のため、EMSを利用して配送しています。