[Custom] Sweet Roll 7~8inch
Item : Sweet Roll
- Size : 7~8 inch
- Color : Lovely Blond, Milk Tea, Rich Brown, Pink Ash Brown, Ebony Black
Sales period : March 18th (2:00 p.m.) to 24th (6:00 p.m.) [KST]
Production period: 12-14 weeks.
(The delivery period may be delayed further depending on the situation of the wig factory due to COVID-19. )
* Customized wigs are hand-made. It may not be exactly the same as the picture, so please make an order after understanding the customized wig.
* Because these are custom wigs made by hand, they can be sold out early if the production period becomes too long due to an increase in order quantity.
* Custom wigs will be automatically canceled if the deposit is not completed within 48 hours.
Wig Color: Lovely Blond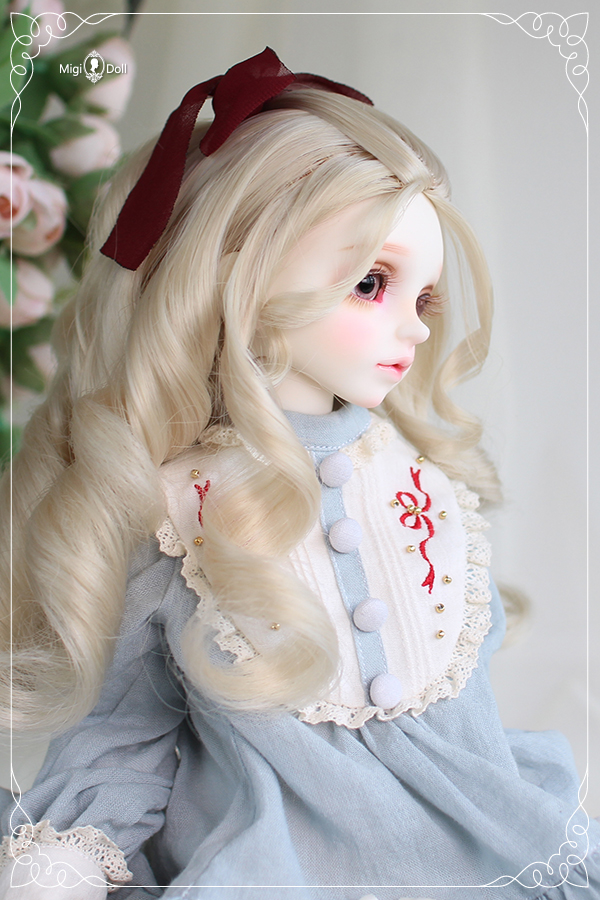 Wig Color: Pink Ash Brown
Wig Color: Rich Brown
Wig Color: Abony Black
Wig Color: Milk Tea
* Promotion product information.
- Doll : Grace63_Sucré Chloe / Cute43_Mini Chloe / Love27_Ahtty Chloe

Notice
- Customized wigs are hand-made. It may not be exactly the same as the picture, so please make an order after understanding the customized wig.
-手作業限定かつらはいちいち手作業で製作されます。 写真と完璧に一致しない場合がありますので手作業品についてご理解の上注文をお願いいたします。
- 8-9-inch wigs are difficult to wear on 9-10-inch heads. Please note this when ordering.
- 8-9インチのウィッグは9-10インチサイズのヘッドには着用しにくいです。 ご注文の際には予めご注意ください。
- Custom wigs will be automatically canceled if the deposit is not completed within 48 hours.
- カスタムウィッグは48時間以内に入金が完了されないと、自動的に注文が取り消されます。
- The color of the wigs may vary depending on the monitor environment.
- 原糸の色はモニターの環境によって異なることがあります。
- Hand-made limited wigs are pre-ordered and cannot be canceled after checking the deposit. Please purchase carefully.
- 手作業限定かつらは前注文制作方式で入金確認後はキャンセルできません。 ご購入の程、慎重にお願いいたします。


Shipping Info
- It will take more than 13 weeks after the end of the sales period.
The estimated delivery period may vary slightly depending on the order situation.
- 販売期間終了後、約13週間以上かかる予定です。
注文状況によって上記の配送予想期間は若干異なる場合があります。
- Corona-19 is increasing the number of countries where delivery is delayed or impossible. We will try to deliver it normally as soon as possible.
- Corona-19で配送遅延および不可能な国が増加しています。 選択したお届け先によっては配送が遅れる可能性があります。 早いうちに正常に配送できるように努力します。
- All Migidoll products use EMS for safe and fast delivery.
- Migidollのすべての商品は、安全かつ迅速に配送するためにEMSを利用して配送しています。
- Corona-19 allows only "EMS Premium" to be delivered in some countries. "EMS Premium" is more expensive than EMS, but delivers fast and safe delivery. To use "EMS Premium", please contact us via the Q&A board.
- Corona-19により一部の国の中でEMSプレミアムのみ配送が可能な国があります。 EMSプレミアムは追加費用が発生しますが、より迅速かつ安全な配送が可能です。
EMSプレミアムをご利用になる場合は掲示板でお問い合わせください。
※Corona_19により日本から一部配送が遅延していた地域は全て解除されました。 別途の追加お知らせが出るまでは、正常にEMSが運用されます。